I recently started creating a media kit.  Inspired by some training by Joan Stewart, I posted it to my Everyday Spacer blog.  Would you like to know a few interesting things about me?  You can see that here.
You'll find a few things I have created and the rest I'm working on.  Why did I create this?  Well, I wrote a book: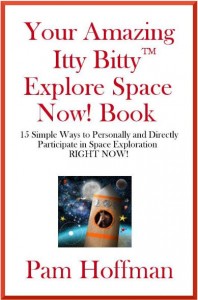 Your Amazing Itty Bitty Expore Space Now! Book
15 Simple Ways to Personally and Directly Participate in Space Exploration RIGHT NOW!
I know that the most important way to get this in the hands of more people is to promote it myself!  I'm very grateful for any help however.  If you would like to know more, stay tuned!  I'm working on it!